Experienced | Resourceful | Diligent | Honorable
Mr. Davidson is an AV® Preeminent™ Attorney rated by Martindale-Hubbell™, ranked by his peers at the highest level of professional excellence in both legal ability and ethical standards.

Mr. Davidson is rated Superb, at the highest rating possible 10.0 by Avvo™, ranked at the highest level of professional excellence in both Real Estate Law and Business Law.
Mr. Davidson is rated one of the Best Real Estate Lawyers in Scottsdale by Expertise™, ranked at the expert level of professional excellence in Real Estate Law.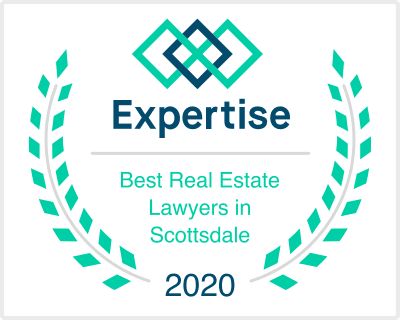 At the Law Offices of Lance S. Davidson, P.C., we are committed to providing superior, value-added legal guidance to clients in Arizona, California and elsewhere. With 35 years of experience, Lance S. Davidson, Esq.'s practice focuses on business, commercial, corporate and real estate law. His legal successes are testimony to his ability to provide superior and resourceful representation to business organizations, governmental agencies, and individuals.
Excellent legal counsel are not just well-educated; they strive to be resourceful and are dedicated to optimizing solutions for their clients. Lance S. Davidson, P.C. adds that extra dimension of skill and drive not only to protect but also to maximize results for the firm's clients. Mr. Davidson provides sophisticated, thorough results in counseling, transactions and litigation, e.g., acquisitions and sales; business planning, formation, syndication and management; real estate development and operations; commercial, corporate, and financial transactions; tax and regulatory research and employment and litigation management; trust and estate issues; and intellectual property matters.
Specific examples of Mr. Davidson's expertise in handling, structuring or reviewing almost $3 billion of transactions, include: a $430 million leveraged buy-out; an $18 million financial lease; a $30 million, 215-room hotel development; rehabilitation of a historic hotel into a retail-office-hotel complex; commercial contracts for software and multimedia firms; national multi-state syndications and numerous sales and financings. He has formed and helped manage numerous corporate, limited liability company and partnership entities. Finally, he has worked on numerous related matters, including property development, ground leases, banking, and tax law.
Besides being an attorney, Mr. Davidson has been nationally certified as a Commercial-Investment Real Estate Specialist (CCIM). Accordingly, he is the rare attorney who, seeking business solutions, can understand the true financial consequences of his advice. Mr. Davidson has also served on the economic research staffs at two Washington, D.C. think tanks: The Brookings Institution and the Institute for Defense Analyses [the latter at which he held a Top Secret clearance while working for DARPA and the Pentagon, and on computerized wargaming]. The United States Patent Office and the European Patent Office have granted Mr. Davidson multiple patents.
Mr. Davidson has also authored two books published by New York houses Hearst and Wiley that sold 27,000+ copies. His activities have included: earning All-City swimming honors, and later earning gold, silver and bronze medals at the Senior Olympics in his 3 All-State swimming events; solo-jumping out of a plane but, falling at 200'/sec, looking up to see his parachute unopened; serving on a Helitack crew of the U.S. Forest Service fighting forest fires; diving off the 61' Blue Hole Bridge on the Cheat River, WV; spending 5 months as a ski bum at Courchevel, France; running the 12K Bay-to-Breakers and the Tucson Marathon; surfing in Hawaii, California and southern Morocco; running and biking most parts of the Arizona's Sonoran desert and California's Marin County trails [e.g., the Bolinas Ridge Trail and most Blithedale Summit trails]; waterskiing California's Delta region and many lakes, e.g., Lake Tahoe, Lake Berryessa, and Lake Annecy in France; scuba-diving 135' to a submerged submarine; biking the San Juan Islands; touring all major Civil War battlefields; avoiding by mere inches several striking rattlesnakes, and staring through the barrels of a revolver in Barcelona, and of machine guns both on a French country road and at the Turkey-Greece border; rescuing a drowning father and his family on a 22-square-mile windswept lake and a submerging friend on the lower Kern River rapids; visiting 40+ countries and 40+ states; hiking numerous parts of the High Sierras, seven Rim-to-Rim Grand Canyon day trips and solo-climbing 14,500' Mt. Whitney, the altitude at which airlines must provide oxygen masks to passengers; taking a safari in South Africa; and finding a gorgeous mate with whom to build a stone house—but then quickly losing her to a rival after being scalded nude-bathing [double ouch]—on a Mykonos, Greece beach.
Mr. Davidson earned his A.B. in Economics from Stanford University and his J.D. from Vanderbilt University School of Law. He is licensed as an attorney in Arizona, California, and Oregon. Mr. Davidson has published numerous articles in leading law and real estate scholarly journals, e.g., The American Law Institute, New York University; University of California's Hastings College of Law, and the Commercial-Investment Real Estate Council. [See Google Scholar Citations for a fuller list of publications cited by other scholars 100+ times.] He authored three briefs to the U.S. Supreme Court successfully arguing the doctrine of illegal de facto segregation, but the now-reconstituted Court has since reversed the doctrine. As legal counsel with three national investment and development companies, Mr. Davidson was responsible for the firms' transactions, management, and asset development. Mr. Davidson was the 2017-2018 President of the Scottsdale Bar Association and has taught law at various venues, including the National CLE Conference and National Business Institute. He also received the 2019 Award of Excellence from the Scottsdale Bar Association for his outstanding service to the legal community.
Mr. Davidson's mission is simple: to achieve his clients' goals while maximizing their legal position. His long-term relationships with clients attest to his absolute loyalty to them, and their appreciation for his professionalism.
Bar Admissions
Arizona
California
Oregon [inactive]
U.S. District Court District of Arizona
U.S. District Court Northern District of California
U.S. Court of Appeals 9th Circuit
U.S. Supreme Court
Education
J.D., Vanderbilt University School of Law
A.B., Economics, Stanford University
Publications
Google Scholar Citations
Academia.edu